Sapphire Wind Farm NSW – Completed
project impact at a glance
Approx. figures.
Generating Capacity

270 MW

Clean Energy Power

115,000 Homes

Co2 Reduction

700,000 tonnes/yr
Capability

Wind farm

Type

BOP - Civil & Electrical

Location

Glenn Innes NSW

Completion

Q4 2018

Turbines

75 x V136 – 3.6MW
Located in the New England Tablelands, just 28km west of Inverell, Sapphire Wind Farm is one of the largest capacity wind farms in New South Wales at 270MW.
100MW of the project's main output is helping the ACT Government meet its target of 100% renewables by 2020; a huge feat we are extremely proud of.
Boasting 75 wind turbines, it generates enough energy to power around 115,000 homes and to displace 700,000 tonnes of carbon dioxide each year.
Sapphire Wind Farm Construction
Zenviron was contracted to carry out the Design and Construction of the Civil and Electrical Balance of Plant works in a consortium with Vestas Australian Wind Technology who supplied and Installed the wind turbines.
The scope involved the construction of 48 km of access track, crane hardstands, Operation and Maintenance building and the Wind Turbine Generator foundations which contained over 40,000m3 of structural concrete and more than 5,000 tonnes of reinforcing steel in total. The construction of the Medium Voltage Collector System contained a 33kV Powerline and the installation of 67 km of 33kV underground cabling.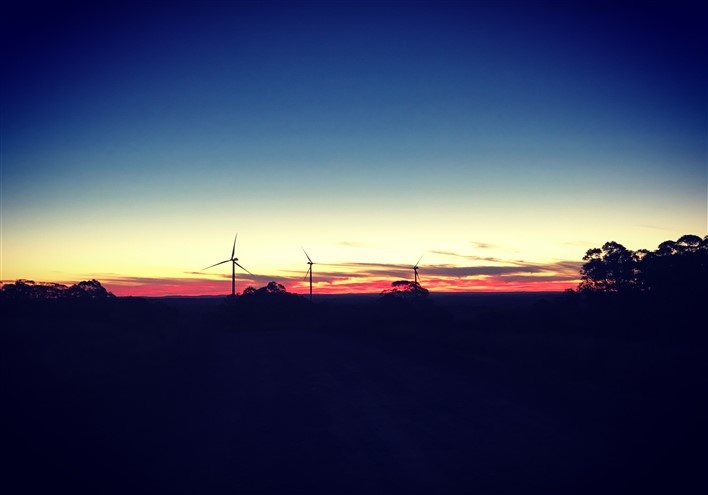 "Without the focused management, supervision and professional expertise of your Zenviron team it is unlikely this result would have been so seamlessly and successfully achieved."
Clayton Delmarter
Tilt Renewables
Executive General Manager
"The professionalism of Zenviron's approach, quality of work, and the culture they bring to all aspects of a project is, in my view, unparalleled, and is clearly in their track record."
Clayton Delmarter
Tilt Renewables
Executive General Manager
"I couldn't be happier with the way Zenviron went about their business. The staff were courteous at all times...I could not recommend Zenviron more strongly."
Peter Coy
Salt Creek Pastoral Company
Director and Owner
"The Zenviron team [delivered] strong performance during the execution of the balance of plant works, both civil and electrical, for the Sapphire Windfarm project."
Alex Hewitt
CWP Renewables
CEO
"It has been a rewarding and enjoyable experience working with Zenviron and we look forward to further successes together on future projects."
Alex Hewitt
CPW Renewables
CEO